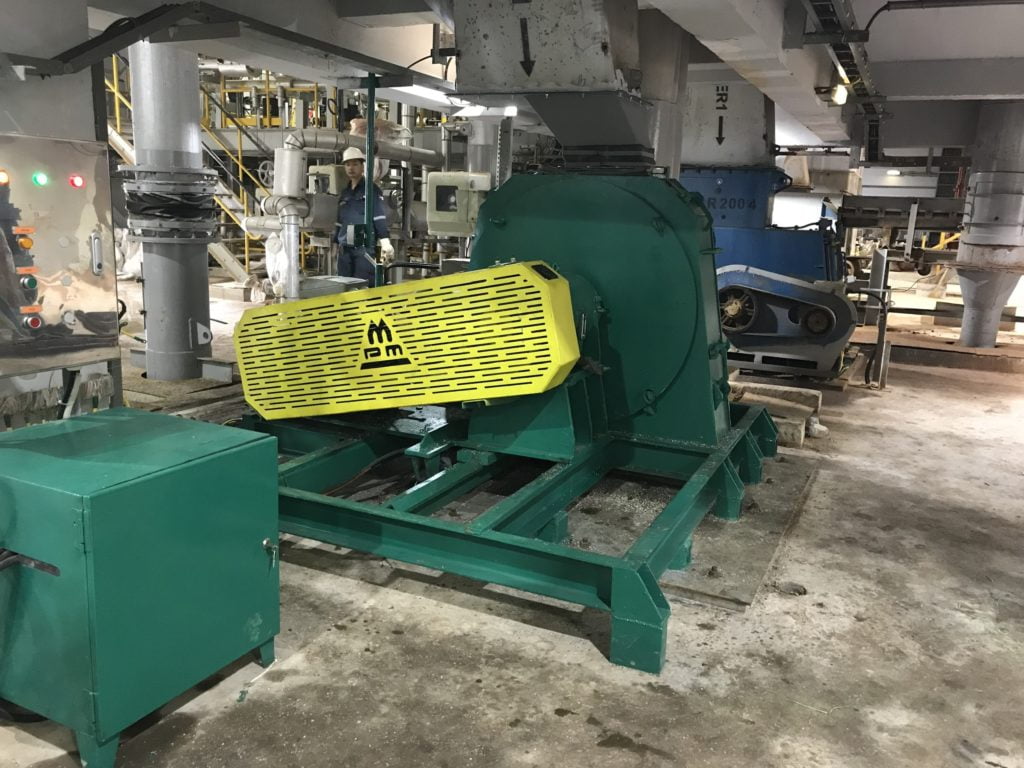 Cage crusher – specialized crushing equipment DAP
DAP is one of the basic raw materials of high content NPK fertilizer production technology. In the market, DAP is a product commonly sold as a granule product, with diameters ranging from 2 mm to 4 mm, grain hardness ranging from 5 kg/grain to 8 kg/grain. For good NPK granulation, it is usually necessary to grind the DAP into a fine powder with a diameter of less than or equal to 1 mm.The cage mill, which is said to be the most suitable mill for crushing this type of product, because it maintains a temperature of less than 70°C in the crushing chamber, does not melt the crushed product compared to other types of mills.
Phu Minh Machine Manufacturing Co., Ltd., is a unit with many years of experience in manufacturing equipment for the NPK fertilizer industry. The grinding machines of Phu Minh Company have been studied in depth, ensuring that the products after grinding achieve a uniform fineness and according to the requirements of customers. Energy costs are reduced by about 5 times compared to some similar machines on the market. We also design synchronously with the product recovery system after crushing, no need to install additional screening systems and dust collection systems (these systems are often very complicated and the investment costs are quite large).
Phu Minh Company has successfully manufactured a cage crusher for crushing DAP with a capacity of up to 20 tons/hour, installed and operated stably at Ca Mau Fertilizer Plant.
With much improvement in structure, the mills manufactured by Phu Minh Company operate stably continuously 24 hours a day long (from over 1 month to 6 months).
The toilet doors are easy to open and close with quick release locks. There is a hydraulic system to separate the system of 2 separate cages when needing to be replaced and repaired. The quality of cage crusher is also put on the top by Phu Minh Company. The motors we use are Siemens, FAG bearings from Germany. The parts working in the impact mode are all made of special-purpose steels and heat-treated to the appropriate hardness.
OTHER EQUIPMENT MANUFACTURED
AT PHU MINH MACHINE MANUFACTURING CO., LTD
Raw material crushing unit (DAP, SA, ...)
System of molten urea granulator and rotary barrel steam
Automated weighing system
Machine to loosen products after bagging
Hammering machine and mobile delivery conveyor